Christmas season is fast approaching and so too is your annual Christmas work party! Dressing to impress is essential while adhering to the dress code and of course keep in mind you want to look fabulous but also feel comfortable enough to fill up on all the free food and champagne as well as show off your moves on the dance floor. Whether its a cocktail Christmas work party or a black tie function, we've got you covered with our selection of Christmas work party dresses and some hair and makeup tips to complete your glam look!
via wildwombatwinerytours.com.au
What To Wear To A Christmas Cocktail Work Party
Holiday season is approaching, so it's time to pick the perfect party dress for your next cocktail Christmas party! Whether it's for work or play, any cocktail party needs one essential thing – a cocktail dress.
We have 10 great cocktail dresses for you to wear to your cocktail Christmas party, as well as matching accessories to shop and rent.
10 Cocktail Christmas Party Dresses
1.
FAME & PARTNERS 'Bright Lights Dress'
Available sizes: 8
Dazzle the night away at your Christmas cocktail party or festive party in this glittering sequin number from Fame & Partners. The classic shift shape is flattering on all body types, with a crew neckline and relaxed fit. The multi-faceted sequins change colour under light, so it's the perfect party dress! Let your dress shine by pairing with simple black heels and a matte clutch to off-set the high glam shimmer of the dress.
2.
REALISATION 'Diane Dress – Red Star'
Available sizes: 8, 10
Nothing says Christmas quite like a red dress! And this stunning Realisation dress is no exception. Featuring a mini dress with long sleeves and crafted entirely of pure silk crepe, this is the perfect cocktail dress for dancing the night away! Make an impact with metallic heels and gold clutch.
3.
REBECCA VALLANCE 'Paparazzi Drape Long Sleeve Dress'
Available sizes: 8
Long sleeve dresses are the perfect statement for the holiday season. Great for an evening event, this drape dress draws influence from classic Hollywood glamour so you will be feeling like a star at your Christmas cocktail party wearing this stunning piece! With a flattering wrap-style design and demure neckline, this dress is sure to flatter. Rent some silver statement accessories and pair with a simple pod clutch.
4.
ELLE ZEITOUNE 'Jayce Black'
Available sizes: 6, 8, 10
The classic and feminine cut of this Elle Zeitoune dress makes it a knock-out on any woman who wears it. Beautifully crafted out of black baroque-inspired brocade, this cocktail dress is simply stunning. This dress looks perfect on curvy body types and features an underwire cup bustier for added support. Pair with a black clutch and diamante statement earrings.
5.
LOVER 'Ruby Oasis Halter Dress'
Available sizes: 14
This luxurious deep red hue dress from Lover is a Christmas cocktail party essential! Featuring flirty lace detail and a halter neck style, this is a flattering dress on many body types and can be styled with nude heels for an easy glamorous look. Opt for black statement earrings for a classy and elegant look.
6.
NICHOLAS THE LABEL 'Crepe Halter Split Jumpsuit – Black'
Available sizes: 8, 10
Jumpsuits are a fabulous alternative to a traditional dress. Try this modern twist in this season's trend by renting this stylish Nicholas The Label jumpsuit. Pair with strappy heels and a bold lip for a feminine look. Statement accessories will really glam up this outfit as well as a statement clutch with gold detail.
7.
PARKER 'Petra Dress'
Available sizes: 8
Put the Hurray! in Holiday with this statement gold cocktail dress by Parker. Featuring a mini dress silouhette, three-quarter sleeves and gold sequin & stud detail, this dress is a real Christmas cocktail party contender! Pair with matching metallic accessories and strappy gold heels for a dazzling appearance. Bronze makeup and a small amount of highlight shimmer in the inner corner of the eyes will really make you and this dress shine!
8.
SELF PORTRAIT 'Tiered Guipure Lace Mini Dress – Maroon'
Available sizes: 8, 10
Christmas cocktail parties are all about lush, festive cheer. This deep maroon tiered mini dress by Self Portrait is gorgeously in-keeping. With delicate lace detailing all over as well as a Victorian-inspired neckline, this dress makes a striking appearance against the skin and would look super chic with a black mini bag to hold your cocktail money and lippie!
9.
BEC & BRIDGE 'Marvel Lace Midi Dress'
Available sizes: 8, 10
A clean white cocktail dress is perfect for the summer holiday months! This white lace midi dress by Bec & Bridge is beautifully tiered with lace all over and features a flirt V neckline. This dress looks great on all body types, as the cinched-in detail on the waist creates the perfect hourglass shape. Style with nude strappy heels or make the most of this season's metallic trend by wearing bronze heels and accessories. Don't forget the spray tan!
10.
JAYSON BRUNSDON 'Camille Dress'
Available sizes: 8, 10, 12
Another gorgeous Christmas cocktail dress; this Jayson Brunsdon piece is breathtakingly pretty with sheer cherry red silk bodice and long sleeves as well as a stunning embroidered lace full skirt which mimics the magic of Christmas and makes you imagine up all those wonderful Christmas-related things! Pair with minimal accessories or fine earrings to complement this dress.
What To Wear To A Black Tie Christmas Work Function
Whether you're attending your own black tie Christmas work function or being escorted by your friend/husband/partner to their annual office Christmas party, the question remains the same – what do you wear?
A Black Tie Christmas work function dressing code requires attendees to dress in 'black tie' which simply entails semi-formal. This means tuxedo or shirt and tie for men, and a cocktail dress or evening gown for women.
Women are safe with knee-length or longer dresses in more formal styles and colours. Think a nice structured dress in black or deep red with heels and a throw if the function is outdoors. For modernity, women can also opt for a dressy pantsuit or jumpsuit for a contemporary twist on the traditional formal wear.
We give you 10 dresses and accessories which are perfect for any Christmas black tie event – all ready to rent from our collection at GlamCorner!
10 Dresses for Your Black Tie Christmas Work Function
1.
MAURIE & EVE 'Lucy in the Sky dress'
Available sizes: 8
This Lucy in the Sky dress is a beautiful style for a Christmas work function. Elegantly shaped with the current season's off-the-shoulder look to add a little bit more glamour and intrigue! Perfect for a night out, simply style with fine jewelry and a classic clutch. Christmas is special and so too should be the dress! However, a work place dress code still loosely applies, so keep it classic and pair with a simple heel.
2.
GRACE & HART 'Allure Floaty Dress' (Navy)
Available sizes: 8, 10, 12, 14
A classic midi dress is a great option for formal work events. This Allure Floaty Dress by Grace & Hart is available in this gorgeous and timeless navy blue, as well as Black and Blush. A great option for an elegant and chic Christmas office party, this dress and its lace detail is stylish and appropriate for any work-related event. Style with a silver or nude clutch with nude heels and keep makeup classic. A red lip would make this navy blue pop!
3.
ALEX PERRY 'Natalia Dress'
Available sizes: 10, 12, 14
Stand out from the all-black-dress wearing crowd with a bit of festive red in this stunning Alex Perry peplum dress. The pencil skirt and structured silhouette adds some business-chic, but holds enough elegance to make it stylish. For cooler weather, try adding a tailored blazer with this dress for a classy look.
4.
JAYSON BRUNSDON 'Waltz Dress'
Available sizes: 8, 10, 12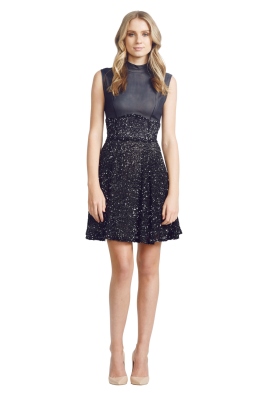 You can never go wrong with a classic LBD. This Jayson Brunsdon item is the perfect cocktail dress for a black tie Christmas work function; featuring hand-sewn sequins and tulle underskirt, this is festive fabulous! Add a pair of black heels or try some pumps in a bright colour to add a splash for brightness! If you love this style, find your perfect sequin dress here.
5.
DAVID MEISTER 'Illusion Gown'
Available sizes: 8, 10, 12
This sophisticated & stunning evening gown by David Meister is fit for any formal or black-tie event; and with it's long sleeved lace top and slinky skirt it's perfect for evening-held Christmas functions. Pair with glitzy chandelier earrings or a diamante cuff bracelet and a red lip for a touch of old Hollywood glamour.
6. 
ALICE AND OLIVIA 'Judee Jumpsuit'
Available sizes: 14
For a more contemporary look, why not try a jumpsuit? When styled correctly, a simple black tailored jumpsuit can be very classy and formal. Just pair with black heels and gold accessories, like this Adorne Boho Stone Teardrop Metal Cuff for a stylish entrance to any work function over the holiday season.
7.
ALICE MCCALL 'Talk the Talk Midi Dress'
Available sizes: 8, 12
This feminine and elegant lace Alice McCall dress would look fabulous styled with a black clutch, heels and a red lip. Again, the midi length and pencil skirt detail is in keeping with business chic style, but stylish enough for a formal night out. or more help nailing a completely classy look read our little black dress hair and makeup tips.
8.
YEOJIN BAE 'Double Crepe Lisette Dress' (pink)
Available sizes: 10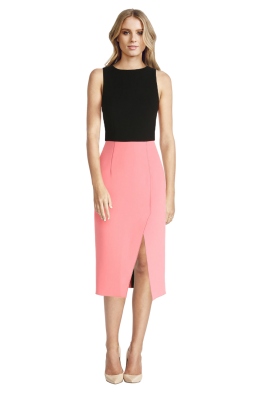 South Korean born designer Yeojin Bae is the queen of structured styles with a feminine twist, making her dresses perfect for any work-related formal event. This Double Crepe Lisette Dress adds a pop of fun and colour with a pink pencil skirt. Pair with nude heels to eleongate legs and accentuate the sexy slit detail at the front, and keep accessories pared-down with simple earrings to complete the look.
9.
SHONA JOY 'Deia Draped Midi Dress'
Available sizes: 6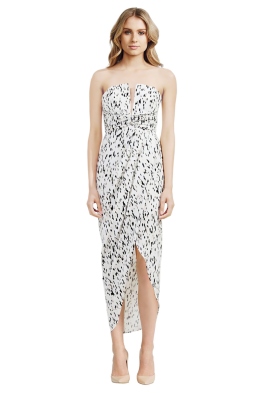 If your black tie work Christmas function is to be held during the day, this perfectly summery midi dress by Shona Joy would be the perfect match! Formal enough for a black tie dress code, but flowy enough for the hotter Christmas months. Pair with nude heels and a nude clutch for a complementary style, or go contrasting with a simple black clutch.
10.
THURLEY 'Bed of Roses Lace Dress'
Available sizes: 8, 10, 12, 14
Another festive fabulous dress! This gorgeous green lace dress by Thurley is crafted out of intricate floral and vine guipure lace detail, and is sure to turn heads! Beautiful styled with black strappy heels and accessories, this dress is flattering and black tie ready.
Christmas Work Party Makeup Ideas
The Christmas season might be rushed, but this shouldn't include your makeup! Look spectacular in the season's best Christmas makeup looks for your Christmas work party or event. Whether it's a daytime affair or an evening out, we have found some great makeup looks – 3 daytime and 3 nighttime – so whatever the time of day or type of Christmas party, you can have a glam makeup look which is in keeping with the holiday but without all the tackiness!
Christmas Makeup Looks: Daytime
Smokey eye with shimmer
A smokey eye can be worn during the day! Just stick to more neutral, warm colours such as brown or copper. The key to a gorgeous smokey eye is to blend, blend, blend. We recommend keeping a clean fluffy eye brush handy for when it comes to blending out the shadow. What makes this look pop is the touch of silver or gold shimmer in the middle of the eyelid, corner of the eye and brow bone!
1. Prep eye lids with eyeshadow primer to ensure long-lasting wear throughout the day.
2. Take a nude colour eyeshadow and sweep over the entire lid. This will create a base and give the darker colours something to hold onto.
3. Take a medium brown shadow and sweep in a windshield wiper motion in the crease of the eye.
4. Take your darkest colour (a dark brown or cocoa would work perfectly) and apply to the outer edge of the eye, including the crease. Next, take your clean blending brush and blend the shadow in until there are no harsh lines.
5. Take a loose pigment shadow in either a silver or gold and put it on your finger and tap onto the middle of your eyelid. Do the same applying to the inner corner of the eye and across your brow bone.
Finish with a nude or peachy lipstick.
Berry Lip
Berry lipstick is a great alternative to red. Less bold, less intrusive and less up-keep! It's the perfect daytime Christmas makeup look! Select a berry tone which suits your skin tone. If you are fair, opt for berry shades that are dark but sheer. Cherry and raspberry tones would make your complexion pop. Medium skin tones look great in a richer, truer berry shade, while dark skin tones berry of choice should be a deep-wine shade.
Rosy Cheeks
A freshly flushed face has something romantic about it, doesn't it? A simple sweep of a rose blush on the apples of the cheeks is a quick and feminine way to add some colour and flirtatiousness into your daytime makeup look as well as keep in theme with the Christmas seasonal red! The key to making this look work is choosing a blush that complements your skin tone and natural undertones. Observe the colour your cheeks naturally go in cold weather or after exercise or when you pinch them and choose a shade similar.
Remember to use blush sparingly – a heavy hand can make you looking like Mrs Claus (something we don't want at the next work christmas party!) Sweep a little on at a time and tap any excess powder off the brush before each use to avoid the dreaded clown face.
Christmas Makeup Looks: Evening
Strobing
Strobing is the new contouring! Instead of using darker shades to create shadow and definition on the face, strobing is the technique in which you use an illuminator or shimmer powder to highlight the natural high points of the face. This is a seriously glam look for the evening, and would look great under the Christmas lights!
1. Prep the skin with a hydrating moisturizer. The base of this look is clean, dewy skin.
2. Select a highlighter which complements your skin tone. For fair skin, select champagne tones. Medium skin – pink champagne tones. Olive – golden tones, and Dark – terracotta tones.
3. Pat or dot the highlighter on the places of your face that naturally catch the light (bridge of the nose, cupids bow, brow bone, cheek bones, inner corner of the eyes, the temples)
4. Blend with a beauty blender, makeup brush or your fingers.
Red lipstick
A bold red lip is such a timelessly classic look, and not to mention perfect for that work Christmas party. Pop a bit of festive cheer with a slick of bright red lipstick to make you feel ultra glamorous and make that formal gown stand out.
If you are tan with warm undertones, look for orange-based red hues. Fair skin pops with cherry reds and blue-based reds, while dark skin tones suit rich plum reds.
Glitter Cut Crease Eyeshadow
This is the perfect Holiday makeup look, and a great evening makeup option. Choose glitter to match your dress and have fun with this party look!
1. Prep your eyes with makeup primer.
2. Use a base shadow in a nude or taupe and apply all over the lid. Next, take a transition shade (a shade slightly darker than your base shade) and blend into the crease.
3. Take your darkest eyeshadow colour (a black will do for the above look) and apply to the crease in a cat eye. Tip: Use scotch tape or makeup tape to get the perfect line. Blend with a clean blending brush.
4. Take a black eyeliner and apply in the crease, following that line. This is just like drawing on a winged eyeliner, but on your crease, not on your lash line. Blend.
5. Now use your eyeshadow in the shade of glitter you wish to use (choose silver for this look) and apply all over the lid, all the way out to below the black liner of the crease. Next take your glitter eyeshadow (loose pigmented eyeshadow will work best) and pat onto the silver eyeshadow.
6. Add black eyeliner to your lash line and extend the wing so that it is parallel to the cut crease. Gently pull off the tape if you are using it and conceal any botched lines and edges.
7. Apply black liner and eyeshadow onto the lower lash line and coat lashes with mascara.
Christmas Work Function Hairstyle Ideas
'Tis the season to be jolly – and to have a fashionable hairstyle to go along with it! The Christmas and the holiday season means an influx of festive events and functions to attend. For a Christmas work function, sorting out the hair to go with the dress can turn you into a Grinch in no time! If you are attending a black tie formal event then hairstyles should also match the dress code. A little bit of formality in the hairstyle to match the formal wear can lift your whole appearance. Whether it's a black tie or cocktail event, we have hairstyle ideas to keep you looking festive fabulous at your next Christmas work function.
Three Black Tie Hairstyles
1. Side swept curls
Perfect for an off-the-shoulder dress, this gorgeous formal hairstyle looks both Hollywood and Christmas party ready. To achieve this look that Cara Delevingne is rocking on the red carpet, read on:
1. Part your hair to the side using a tail comb to make sure that the part is even. If you have finer hair, you may want to work some volumising mousse or spray to lift the roots beforehand. Then take your curling iron and starting with a smaller section of hair, begin curling the hair towards your face.
2. Continue curling sections of hair this way all the way around. Then set the curls with a light hairspray.
3. Once hair has cooled, begin blending the ringlets by softly taking a wide tooth comb and brushing the hair.
4. Repeat on the opposite side.
5. Create volume at the crown by backcombing the hair with the smaller side of your comb.
6. Take one side of your hair and twist it away from the face and towards the back of your head and pin in place at the nape of the neck so that all hair is swept to the opposite side. Voila!
2. Fishtail Up-do
This up-do may look like a lot of work but it actually takes only a couple of minutes! A timeless hairstyle perfect for a formal dress or gown, pair with drop earrings for a gorgeous look.
1. Part hair down the middle and secure both sections with a hair tie.
2. Remove the first hairband and divide hair into two equal sections. Starting from the back of the head, begin the fishtail braid.
3. Continue braiding until you get to the bottom and then secure with a clear band. Repeat on the other side so that you have two fishtail braids. Then bring one braid up and over the top of your head and secure with bobby pins.
4. Repeat on the other side to complete the look!
3. Half-up Hairstyle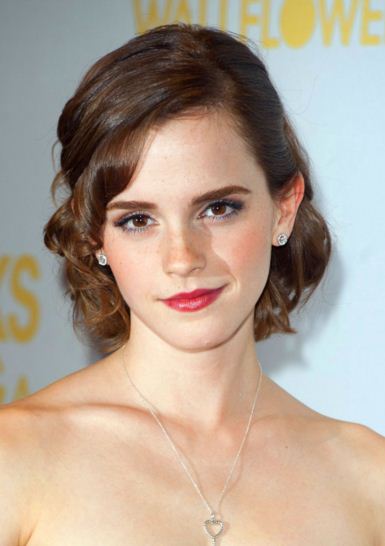 For a perfect medium-length black tie hairstyle, take inspiration from the always elegant Emma Watson and her bouncy half-up hairdo.
1. Curl your hair into tousled curls and waves with a curling iron or hot rollers, using small and large sections of hair to create more bounce and intrigue.
2. Part hair to the side using a fishtail comb, then gather the top layer of hair and pull into a half-up/down hairstyle pinning into place with bobby pins in a criss-cross at the back of the head.
3. Curl any remaining sections and sections you may have missed. Finish with a slick of red lipstick and diamante stud earrings to complete the look.
Three Cocktail Hairstyles
1. French Twist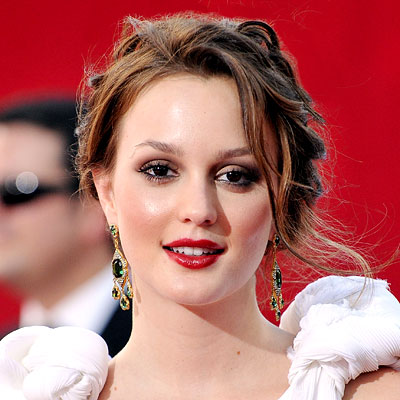 Copy Leighton Meester's divine french twist hairstyle to complement that perfect cocktail dress! A french twist has been a cocktail party hairstyle favourite simply because it is stunning but not too rigidly formal. Great for a one shoulder dress!
1. Using your non-dominant hand, sweep your hair to the side just slightly off-center. With your hand, secure with a bobby pin vertically up from the bottom at the nape of your neck.
2. Begin securing hair with bobby pins from the bottom up.
3. Gather the loose hair up and twist slightly, pulling up.
4. Slide bobby pins horizontally into the base of the twist.
5. Arrange the ends, letting them hang loosely and spray with hairspray.
6. Gently pull hair to create a more sexy unkempt look, letting hair fall naturally at the front of your face.
2. Chignon
Feminine and flirty, this chic hairstyle never goes out of fashion. Perfect for your next cocktail party, all you need is a comb and bobby pins to achieve this elegant look.
1. Using a tail comb, part your hair down the middle, smooth it behind your ears and gather at the nape of the neck.
2. Gently twist you hair from the base to the ends, then begin to coil it in a counter-clockwise circle.
3. Continue to twist hair into a bun, using your index finger to hold into place.
4. Secure each sides of the bun with bobby pins and gently pull and loosen the bun with your fingers.
5. Create volume by sliding your tail comb at the crown of your head and pulling upwards to lift the hair up and out. Spray with hairspray.
3. Side Braid
Nothing says low-key glam like a stylish side braid. Pair with your lace cocktail dress, slick on some lipstick and make like Blake Lively and be the most glammed up at your work Christmas party! The hairstylist behind this gorgeous beachy-inspired look spilled some secrets in how to achieve this look.
1. Part hair down the side using a fish tail comb. Spritz some texturizing spray or sea salt spray into the lengths of the hair and scrunch.
2. Create a fishtail braid for a more intricate look, or just a simple braid – depending on the time you have allowed and braid down the side, letting strands fall where they may; this look isn't supposed to be perfect or constructed.
3. Gently pull sections of hair around your face to create a frame for the face. Next, do as Blake's hairstylist does and grab a mascara wand (clean of course!) and poke through the braids/plaits and gently pull and tease to create a more relaxed, chic look.
---